Empowering you to express your style
Melbourne based Image Consultant and Personal Stylist, Imogen Lamport, can help find your individual style and best colours.

Empowering you to express your style
Melbourne based Image Consultant and Personal Stylist, Imogen Lamport, can help find your individual style and best colours.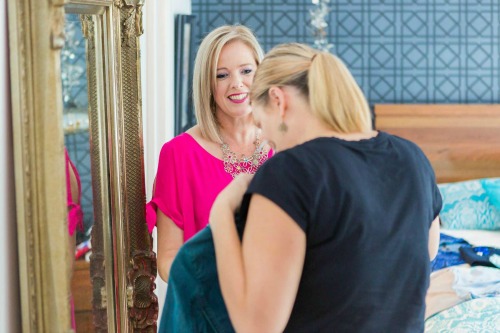 If your style has become stagnant then it's time to transform your image!
Hello Gorgeous!  I'm Imogen Lamport.
I'm an internationally certified image professional and the industry award-winning Image Consultant for you, the intelligent woman who knows that when her insides match her outsides, she is confident and empowered to the best she can be.
Your style has stagnated
As a busy woman putting your family, friends and work first so much of the time, your style has gotten lost and now you're not sure what to wear anymore.
When you get dressed, no matter if it's an everyday work outfit that shows off your true professionalism, to that opportunity to stand up and be noticed, you worry that you just don't have your look together.  You often feel self-conscious and that you're not putting your best foot forward.
You know that what you wear impacts on how you feel.
On a good style day you feel confident and your self-esteem skyrockets.  On a bad style day you feel down in the dumps, frumpy and dull and it really puts a dent in your confidence.
Sadly, you often have more bad style days than good as you've lost your way with regards to your style and so easily feel overwhelmed in stores as you aren't sure what works for your colouring or body shape anymore.
Every day you struggle to know what to wear.  You have a wardrobe full of clothes but feel like you have nothing to wear.
You frequently buy something with the hopes that it will fix your wardrobe woes, but once you get it home it doesn't make the grade.  You're back on the same old hamster-wheel of doubt and you end up wearing the few outfits that you think are just OK, but they certainly don't make you feel fabulous.
Luckily I know there is a better way.
I know that defining your personal style is the easiest way to have a wardrobe full of clothes you love to wear.
Empowering yourself with the right information about which colours make you shine and the styles that flatter you physically as well as make you feel like the best version of you is what you desire.
Understanding how to put you into your style rather than blindly following fashion trends will give you the feeling of freedom when you know what you want and what to avoid amongst the huge variety of clothing choices in the stores.
You are an amazing, intelligent woman who wants to transform your style to be congruent with who you are.
If you're feeling style stuck, and lost in the fashion maze, you know that there has to be a reason why some colours and styles work and others don't for you. Then it's time to define your personal style.
What's Your Style?
Winner of 2019 AICI Jane Segerstrom Award
Imogen Lamport received this award at the AICI Global Conference in Chicago, USA in April 2019 for helping further the AICI worldwide industry vision.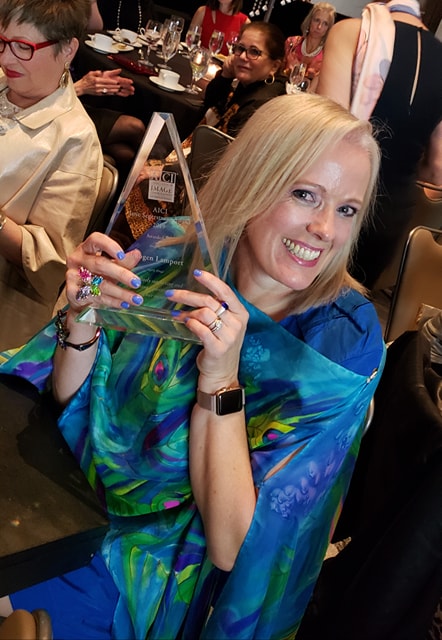 Wardrobe full of clothes but nothing to wear?
Do you waste money buying clothes that sit in your wardrobe unworn?
Do you know what suits your body shape and proportions?
Do you wonder which colours suit you best?
Are you confident in knowing what is appropriate to wear in every situation?
Do you know how to dress to create your best possible first impression?
Do you hate shopping and don't know what suits you?
Are you still wearing the same clothes year after year?
Have you ever thought that you would love to have a personal stylist?
I'm here to help!
Professional Organiser, Skeletons in the Closet
Thank you Imogen, there are no skeletons left in my closet!
I'm very happy with all of my new clothes and most of them are things I would have never chosen for myself. I realised after shopping with you that I have been in the habit of buying things that are too big for me. The new clothes are still comfortable but look much more polished.
Thank you so much for your help. I'm looking forward to doing it again when the spring/summer clothes are out!
Thanks again for the consultation- I learnt so much not just about my colours but the contrasts and style personality was spot on. I'm so excited to start developing my own new capsule wardrobe in my colours & style. I could instantly see where I have made mistakes in the past as well as when I have got things right in my wardrobe at home (and feel I'm still learning – reading my booklet over and over). I also understand why I don't like things too.
Such a fantastic experience!
Industrial Relations Consultant
I used to hate going shopping for clothes, I used to pretty much dress to prevent myself from being arrested for indecency and that was the highest standard I aspired to achieve. Now, when I go shopping with Imogen, clothes shopping is amazingly quick and efficient, AND I end up with clothes that look good! Thanks to Imogen Lamport, I have clothes in my wardrobe that are gorgeous colours and shapes that flatter me, and I can get dressed and feel GOOD about how I look!
Don't be 'Dresstitude'.
Contact Imogen today and arrange your personal or business image makeover.