Unsure About Putting on Makeup?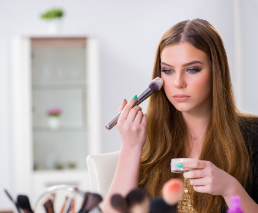 Not sure what's in fashion? Still wearing makeup you bought 5, 10 or 15 years ago? Not wearing any makeup at all because you don't feel confident applying it?
Wearing make-up shows others that you take care over your appearance. People then assume that you will take care in your work. If this is the assumption that people make, then play the game – and reap the benefits!
Even if you don't like wearing make-up, these reasons alone should spur you on to let me show you a subtle, natural make-up which can be applied in about 6 minutes.
Bespoke Image will show you which colours suit your skin tone best, and can supply you with a great range of cosmetics.
Investment
A Make-up Update costs $150 and takes 1 1/2 hours. Make-up is also included as part of a Colour Analysis (at no extra charge).
Contact Bespoke Image today to arrange your Makeup Update or Colour Analysis.