Do you change what you wear each decade or so? If not why not? If you're still wearing the same clothes that you bought 10 or 20 years ago, you're aging yourself considerably. Yes, your clothes may be classic in style, but the classic styles of 1990 are not the same as the classic of 2010. Updating is important if you want to maintain a youthful and modern image and not look 'old lady'. If 40 is the new 30, then 50 is the new 40, and with our longer life expectancies, there is no need to put yourself out to pasture too soon.
Certainly in Australia, I see way more women dressed frumpily as they age, rather than dressed as lamb, but on my trip to the USA last year I was horrified at the number of women who had that whole 16/60 thing going on (16 from the back, mini skirts and cropped tops, 60 from the front, not a good look). Many of my clients say to me "I don't want to look like mutton dressed as lamb" (here after referred to as MDAL), do tend to dress older rather than younger to ensure that this doesn't happen. They sacrifice style for safety. There are lots of ways to dress in age appropriate style, yet still look modern and chic.
I've been asked to share with you my tips on what I think you should not wear over the age of 50. Now I'm not a lover of too many 'absolutes' too many rules. I know women in their 60s who are funky and fabulous and dress in a manner that suits their age and their personality, but is not 'old lady' in any way.
So how to achieve this goal?
1. As we age, for many of us, skin starts to head south, so it's important to factor this into dressing your ever changing body. Consider that you may want to cover your knees, leggings are a great way to do this, if you want to wear mid-thigh, or just above the knee tunics, skirts or dresses. Leggings are such a great way to keep your look current, without feeling naked. But remember, leggings are not pants, so they should only be worn with tunics, skirts or dresses, no t-shirts please! Check out these pictures that prove how versatile they are for all ages.
2. Throw out your long skirts – yes, those skirts that hit at any point on your lower calf. Skirts are generally most flattering when they hit just at or at the base of the knee cap. Maxi dresses are an exception to this rule. If you won't throw out your long skirts, you really need to wear heels to balance their volume, and I know many women over 50 who have issues with their feet and find them too uncomfortable, so it's easier to adjust your skirt length than be in pain all day!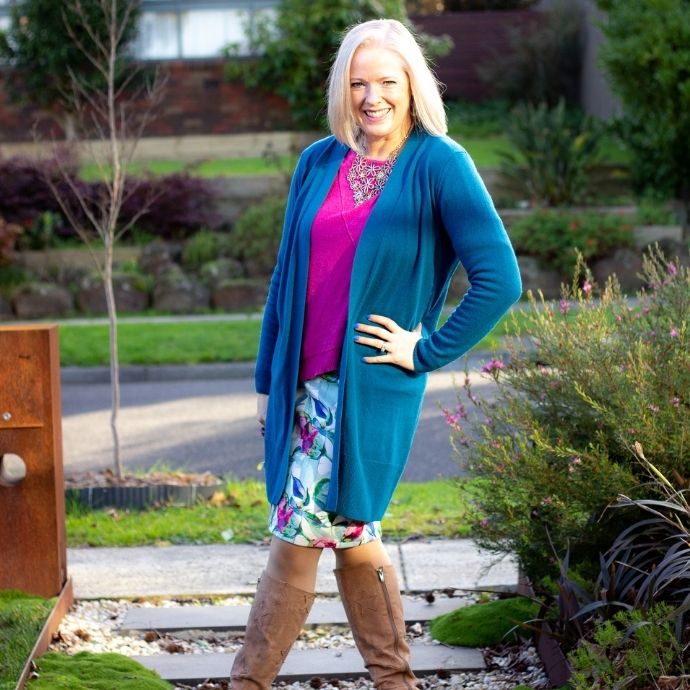 3. Make sure only one garment is voluminous, if both are on the baggy or boxy side, you will be swamped by fabric which is less than flattering. Too tight all over tends to look MDAL if not careful.
4. Get yourself fitted for a great bra. Chances are you've changed size (we all do, plus bra brands are not all equal), and a well fitting bra will give you back your waist (which tends to disappear with menopause). 70% of the support of a bra comes from the band, only 30% from the straps. Most women are wearing a band that is too big, and a cup that is too small. You should only be able to fit a couple of fingers under the band, if you can pull it away from your body more than that, it's too large and you are not getting the support you need.
5. Make sure your trousers are the current length. Too short trousers are one of the most common features I see on more mature women, and it ages (as well as shortening your legs). Trousers should almost hit the ground, never drag on it, but be as long as possible. This is modern, and elongating. See the pic above – this is the shortest your trousers should be. Remember to try on trousers with the shoes/heels you plan to wear with them to ensure they are the correct length. It's worth buying 2 pairs of jeans or trousers, one hemmed for flats, the other for heels.
6. Avoid coloured trousers, keep your trousers in neutral colours. Coloured trousers are high fashion or old lady, and if you're not one to rock the latest fashion with your dramatic personality, they're best avoided as they draw attention away from your face.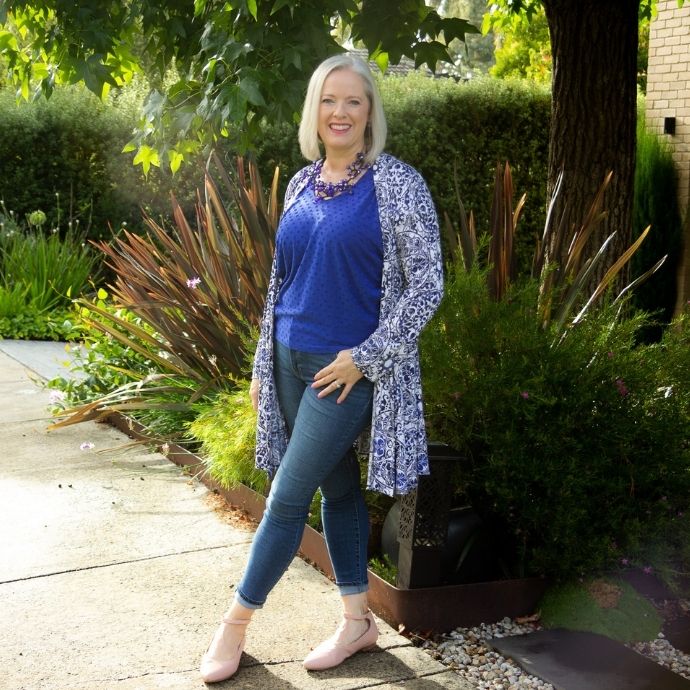 7. If you've lost your waist, avoid tucking in tops. Instead make sure your clothes are fitted, with darts and princess seams. Hem your tops so they hit just below your hip bone, a couple of inches above your crotch.
8. Instead of waist belts (unless you have a defined waist), try curved hip belts to add some interest to your outfits.
9. Spaghetti straps tend to look better on young women, look for wider straps on sleeveless tops and even a light sleeve. Check out Helen Mirren, she manages to cover up whilst still remaining modern. Look for light floaty sleeves, mesh sleeves and the like.
10. Don't be afraid to try something new, but as we age it's better to include one element of the new fashion, rather than attempt it head to toe. As my mother always said "Change is as good as a holiday" change keeps you young, both mentally and physically.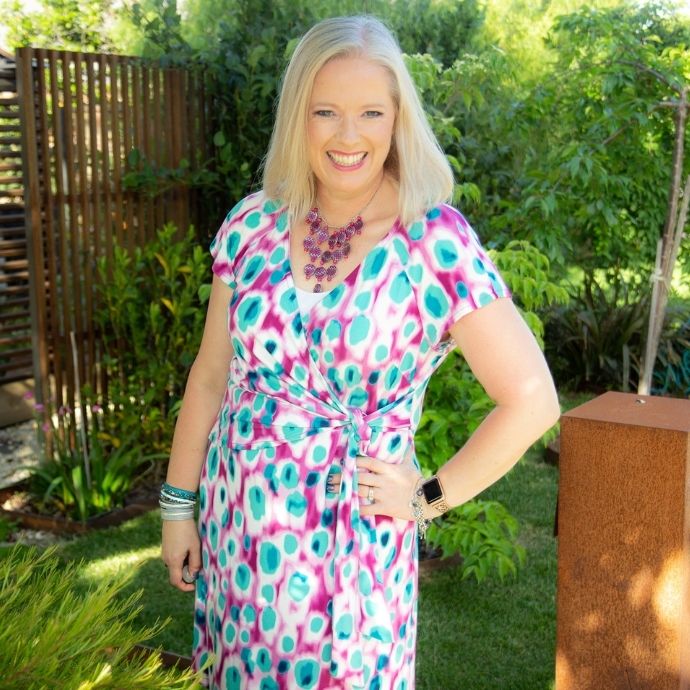 Many women (and men) tend to lose their way in their 40s and 50s style wise. They haven't had the time to spend time browsing the shops, as they're too busy at work or with their families. This is where an image consultant can help you get back on track, and help you develop a stylish new you suitable for the age you are today.
© Imogen Lamport 2010
Reprint This Article
If you would like to reprint this article, please feel free ensuring you credit Imogen Lamport as author, include my webs address www.bespokeimage.com.au and email to let me know where you are publishing it.