Flats are an essential item in any woman's shoe wardrobe.  Heels look great, and I do know some who wear them all the time, but my feet can't take them, and I think most podiatrists and chiropractors would say that they're not the best for your feet or posture when worn over time.
Given that flat shoes don't have the instant impact of heels, how can you improve your style quotient whilst remaining comfortable?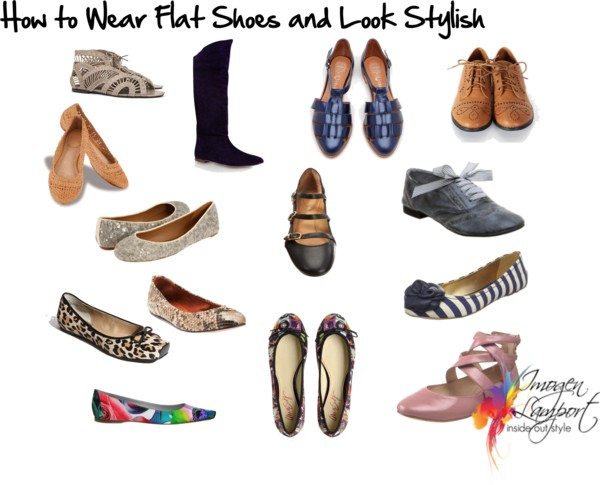 Think about:
Adding pattern
Adding texture
Adding cut-out detail
Adding straps or buckles
Adding sheen or shine
Adding other details like bows or flowers or even skulls.
Then work out which flats go with what clothing styles.
Low vamp flats work well with skirt and dresses if you have either long or short legs.
High vamp flats work well with short skirts (above the knee) and dresses if you have either long or short legs.
High vamp flats only work well with longer skirts and dresses if you are proportionally longer in the legs or if it's a maxi dress or skirt. Otherwise this can look very dowdy if not careful.
High vamp flats work well with pants and maxi dresses and skirts.
More delicate flats like ballet flats and sandals work best with more refined clothing, lighter fabrics and more voluminous garments.
More sturdy flats like loafers and brogues are best with trousers, unless your personality style is more rebellious and rule breaking.
You can team flats easily with leggings too, particularly if you want to lengthen your legs, blend the colour of your leggings with that of your shoe and skirt/dress for a long and slimming column of colour.
More reading on shoes: