My larger than average bust is the reason that I became an image consultant, and it's what got me interested in the how and why some clothing styles worked for my friends but not for me.  I was 16 when I realized that dressing my bust was more of a challenge for me than it was for my more modestly endowed friends. It took me years of trial and error, plus my training as an image consultant, to ensure that people talk to my face not my chest.
Just so you know, I'm a G cup (34G), so I'm fully aware of all the intricacies of enhancing a full bust. People are always surprised when I reveal this figure.  We are all different and some of these tips will work for you and others not so well.
Some ways to flatter and make a full bust less obvious:
1. Foundations are incredibly important.
Keeping "the girls" up high and supported will give you the illusion of more of a waist. You tend to lose your waist when you have a large bust as it naturally sits lower as it takes up more room on your rib cage.  Great bras are a must.  Don't forget to adjust your straps every time you wear a bra.
2. Wear lower necklines.
Not too low, but ones that stop at the top of your cleavage. Yes, V-necklines are the most minimizing, but really, you can also wear square, scoop and sweetheart necklines well.
3. Accessorize with a larger scale necklace.
That tiny solitaire diamond is almost invisible next to your large scale bust.  Look for necklaces that are made up of multiple pieces. If large jewelry is too bold and dramatic for your personal style, choose a necklace that shows skin in-between the beads/pieces, rather than a solid, dense piece.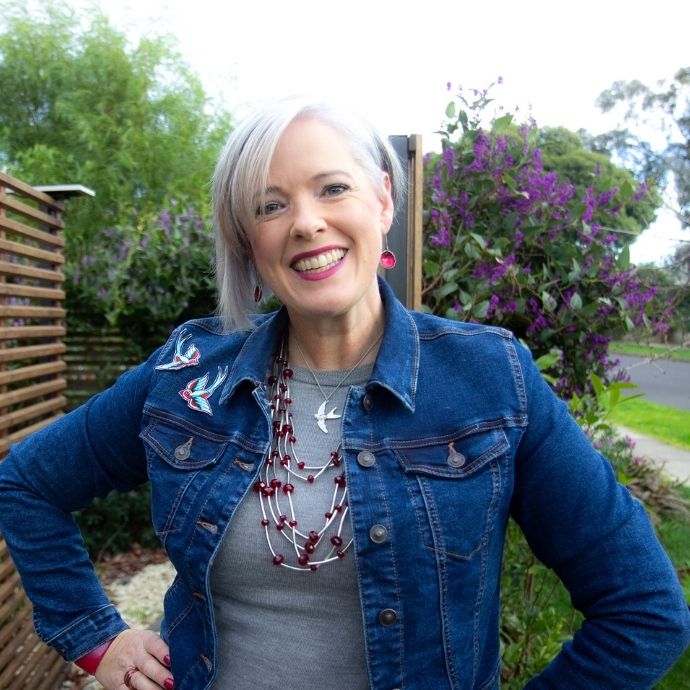 4. Keep necklaces out of your cleavage.
If they sit just below your collar bone this will draw the gaze upwards.
5. Wear tops that are fitted and come in at your waist.
Boxy and baggy tops will make you look bigger all over.
6. Don't end sleeves at your mid-bust point.
End sleeves above or below this point.
7. Use shoulder detail.
It can draw attention up and away from your bust. Look for epaulettes, or other embellishment on the shoulder. A little padding in the shoulders (if this works for your body shape) or a puffed sleeve can visually diminish the apparent size of your bust.
8. Wear wide collars.
They can draw the eye outwards making your bust look smaller. Though if you have broad shoulders you may want to avoid this tip.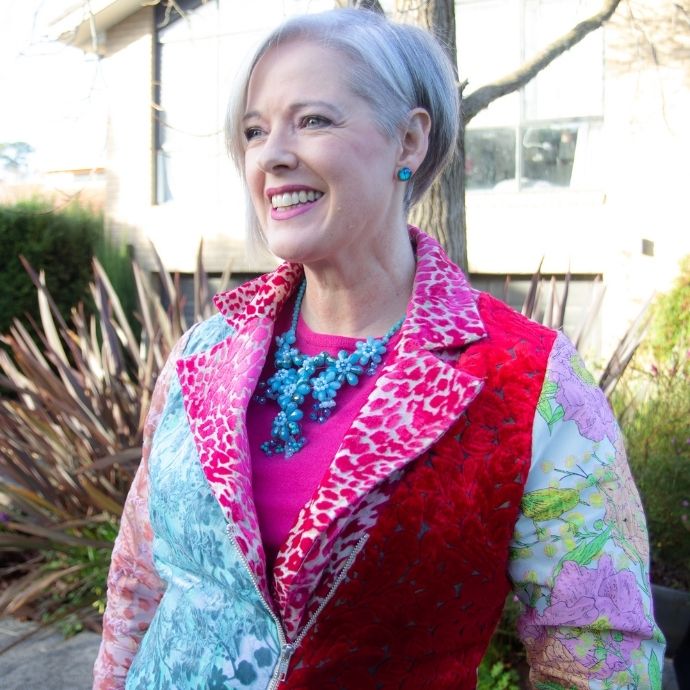 9. Knits are your friend.
You will often find that there isn't the give in a woven fabric shirt to make it fit correctly.  There are garment manufacturers now who do make shirts for larger busts, but otherwise you need to go up a size or two and then have the rest of the shirt tailored to fit.
10. Consider button position.
On shirts that button up in front, make sure there is a button at your bust peak so that the shirt buttons don't gape.
11. Look for higher cut armholes.
They are more flattering than lower cut ones. So avoid dolman sleeves, batwings and kimono sleeves.
12. Wear your belts lower.
Belting can be more difficult for the well endowed as a large bust gives you the illusion of a short waist, so you may find that lower hip belts work much better than waist belts.
13. Don't tuck.
It is generally not advised when you have a large bust (unless you have a very long waist) because it visually shortens your torso.
14. Always create a focal point somewhere else.
Either above the bust or well away from your bust, like with your shoes for instance.   If you direct people where to look by adding detail, they'll do what you want and won't focus on your bust.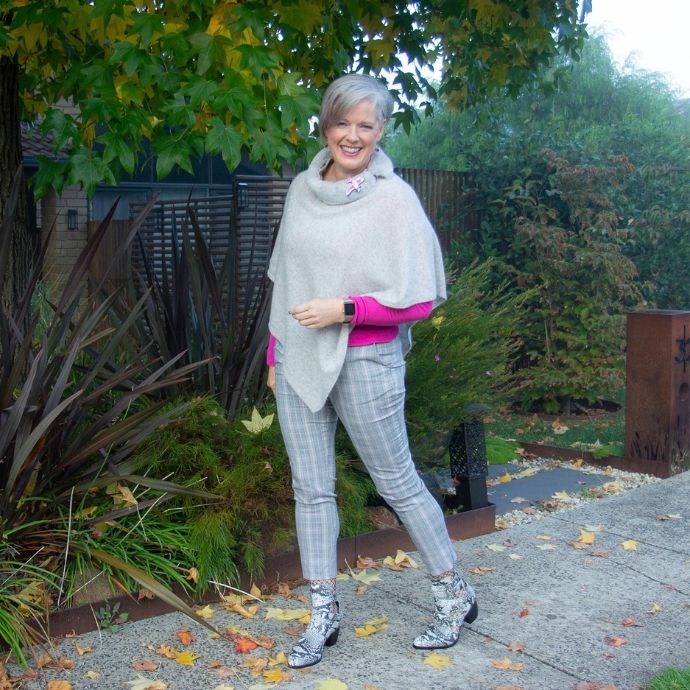 Ever since I discovered the power of a large scale pendant necklace to make my bust look smaller, I wear one every day (unless I'm wearing a scarf).  People always comment that wearing a necklace is my "thing".  It never used to be, but since I know that it works I now collect gorgeous and interesting necklaces in all styles so that I have something to distract the gaze away from my boobs.
More reading: