The Spring a Racing Carnival is all about ladylike glamour. It's a time to channel old-school elegance. There are traditions and dress codes to be adhered to around what to wear to the races.
Remember:
It's daytime, so wear a day dress, rather than an evening dress.
Don't go crazy with the fake tan.  Pale can be elegant.
The weather is variable, think about wearing a jacket or shrug if the weather turns cool.
Dresses should come to the knee, decorum is classy.
Head wear is usually made to sit on the right side of your head, so if you part your hair on the left, when attaching a fascinator, part it to the right so the volume of your hair balances your hat.
Women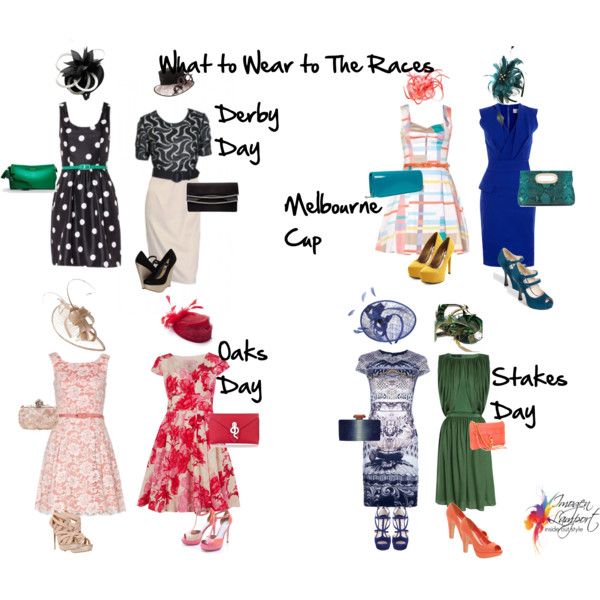 Derby Day – Black and White
If your colouring is cool, this colour combination works for you, particularly if you have dark hair and pale skin.  But if you're a cool blonde why not try a mostly white outfit with just a hint of black, such as a patent black belt with patent black shoes and a black clutch.
If your colouring is warm, rather than go stark black and white, choose an off white, buff or beige to go with your black.
You can add a touch of colour with a belt, bag or shoes, but don't go overboard.
Melbourne Cup Day – Dress to Impress
Melbourne Cup Day is your day to go all out.  Wear colour and don't forget your hat.
Crown Oaks Day – Ladies Day
Today the men will be wearing a pink rose, so why not think about this as the day to bring out your more feminine side, lace, florals and a feminine shape are appropriate.
Emirates Stakes Day – Family Day
The most relaxed day of the Spring Racing Carnival, but never go under dressed – there are still race day dress code standards to uphold.  Think about having fun with your outfit, a solid colour with alternate colour shoes and clutch is a great option.
Men

There are four days of racing at Flemington during Cup Week, and each race day during the Spring Carnival has an official flower: for Derby Day is it a Corn Flower, Melbourne Cup Day is a Yellow Rose, Crown Oaks Day is a Pink Rose, and on Emirates Stakes Day is it traditional to wear a Red Rose.
Dress codes are strict, so always wear a suit, shirt and tie with leather shoes.  Match your shoe colour or go darker than your suit for the most dapper look. Unlike the suit you may wear to work, racing attire is more flamboyant, but you still want to look classy and refined.  You don't need to buy a new suit, but think about putting it together in a more creative way.
Don't forget to get your buttonhole flower, and think about tying in the colour of the flower to your shirt or tie colour to create a harmonious and cohesive look.
This year the pocket square is back in a big way.  The rule is to NEVER match it exactly to your tie – it could be one colour from your tie, or a pattern in the same colours as your shirt and tie, but not exactly the same.
Have fun mixing prints.  A pinstripe suit, with a fine check shirt, a spotted tie and paisley pocket square.   The trick to mixing prints is to relate the colours, but keep the patterns different.
Don't forget a hat.  You're most likely outside for most of the day.  A hat is not only stylish, but will also keep the sun off your face.