Capris and cropped pants are one of the hardest garments to get right in your wardrobe. Yet they are everywhere in stores at present and one of the current big fashion trends. So easily they become frumpy and make you look lumpy and stumpy.
A short pants can make your legs look shorter, yet so many women love to wear them, particularly in the warmer months.
So how can you wear capris and look long, lean and stylish?
1. Keep them slim
Wide leg openings make your legs look shorter, so keep them slim for a leg lengthening effect.  Avoid all cropped pants with flared or bootleg openings (or alter them to a slim fit if they're already in your wardrobe).
2. Keep the colour close to that of your skin
Just like a nude shoe elongates your leg, a cropped trouser in a colour similar to your skin tone – stone, beige, browns and tans, depending on your skin colour, will not make the demarcation line between where the trousers end and your legs begin so obvious.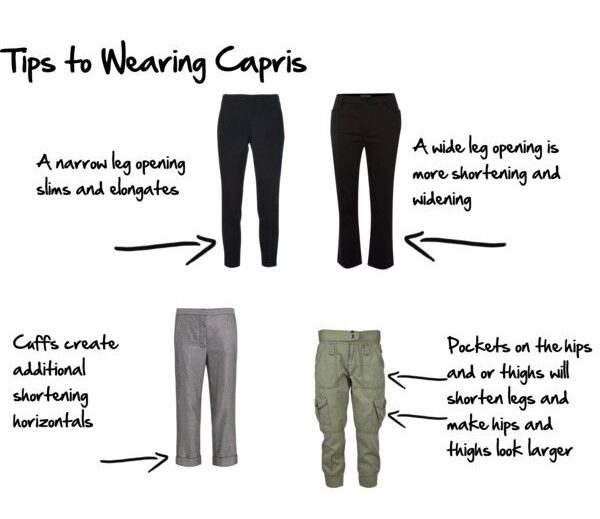 What Footwear?
A wedge or flat-form sandal or heel will make up for the length lost by the cropping of the pant.  Make that shoe either a low vamp shoe too, or in a nude colour so that you don't further foreshorten your legs.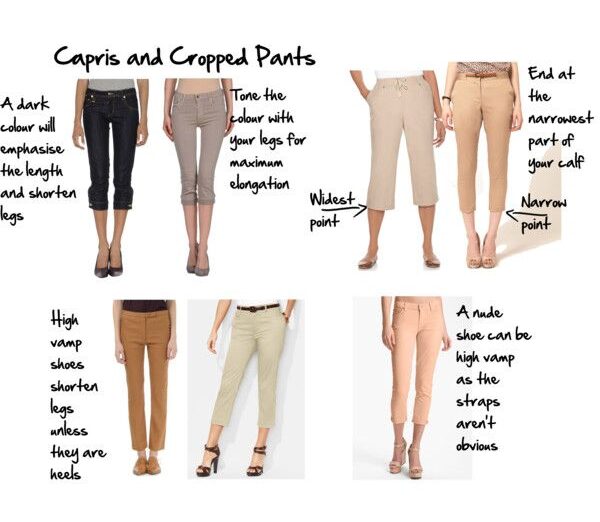 How to Get the Proportions Right?
1. Keep proportions between pants and top balanced
We expect legs to look longer than our body, sadly cropped pants shorten legs, so you want to ensure that you don't further make your body look boxy by wearing a top that is a similar length to your pants.  If you have a slim long waist, tuck your top into your trousers and look for a higher waist.  If you have a shorter body or wider waist, then end your tops either at your hip bone or go for a longer mid-thigh tunic length top with a very slim pant.  If you don't know your proportions and want to, click this link to discover how to measure your body proportions
2. Capris need to end at the slimmest part of your calves
If you're tall, that will be below your calf muscle, if you're petite this may be just below your knee, above the calf muscle.
3. Keep them pocket free
Or at most a slit pocket or jeans style pocket at the waist.  Style with slash pockets, cargo pockets or patch pockets will widen your hips and thighs.
4. Avoid cuffs
Cuffs create extra and unnecessary horizontal lines, which will shorten your legs further already.  Particularly if you cuff denim, where you see a very different colour (the inside of the denim being lighter than the outside).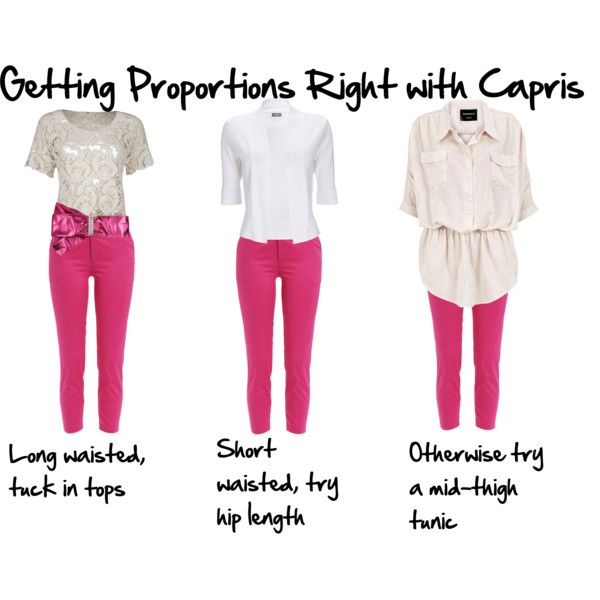 How about What Can You Wear with Capris?
1. Know your body shape
Capris and cropped pants are much easier to wear if you are slim through the hips and thighs.
2. The rise matters
If you have shorter legs proportionally already – then you want to wear trousers with a higher rise and avoid those that sit low on your hips.
3. Know your colours
If you have a curvier bottom half, but shorter legs and worry that a lighter trouser will make it look larger and more obvious, ensure that your top is even lighter or brighter than your capris as this will draw attention up to your face.