Whether it's summer or winter many of us like to feel comfortable in our clothes.  But for so many, comfort ends up equating with ugly or frumpy and definitely not stylish!  Yet client after clients tells me that they want to look stylish.
So how do you ensure that you don't fall into some of the most common frumpy pitfalls?
Don't end skirts in the frumpy zones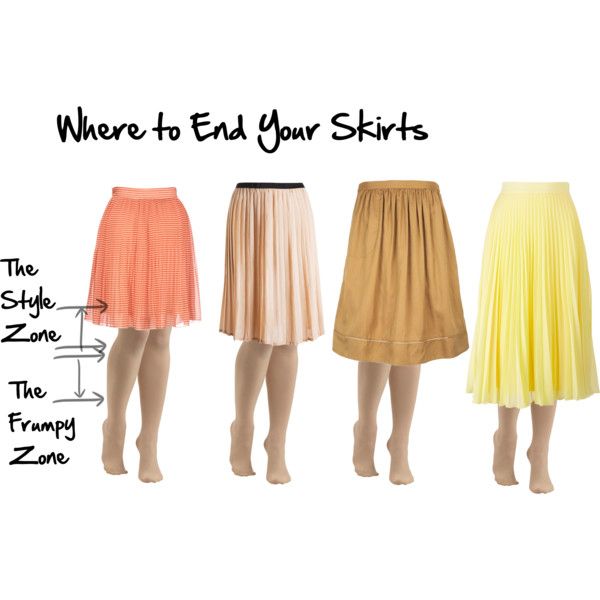 The frumpy zones are the 'widest' parts of your legs below your knees.  Particularly if you have proportionally shorter legs (which many women do), this is a really important tip as longer skirts will shorten your legs, and short legs tend to look frumpy.  A 20 year old can get away with the longer midi-skirt trend, but a 40 year old one, unless she has really long legs naturally, and wears them with a heel, will look dumpy.
The Style Zone – for ending skirts – is between just above the knee, and just below the knee (depending on the shape and length of your legs).
Chunky texture = Chunky body
Then you want to consider the texture of your garments.  Fine fabrics and textures will make you  look slimmer and less bulky than chunky textures and fabrics.
Yes those cable knit cardigans are warm, but they also won't make you look stylish (unless you're a 6 foot supermodel).
Want to get warm?  Look for fine wool fabrics, wear fine thermal underwear under your clothes (it really can make a huge difference), and invest in cashmere and layer fine layers.  In winter I'm often wearing 5 layers of clothing (I get really cold really easily) but you wouldn't know, because those 5 layers are all slim and fitted, rather than chunky and bulky.
Balance and Proportion are Essential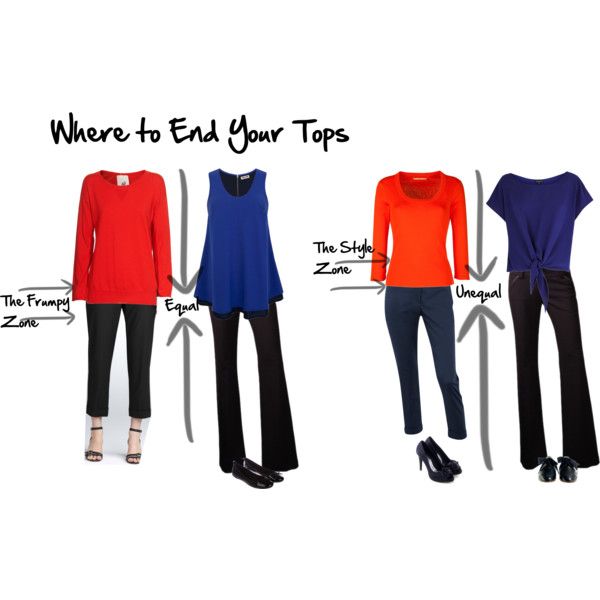 Always remember that balance and proportion are essential to style.
Your body should look shorter than your legs.  If you have short legs and then wear a longer skirt or longer top (particularly with cropped trousers), you will throw off that balance.
You want your top and bottom to be unequal in length (one longer than the other).  In the picture above the tops/bottoms on the left are more equal and the tops end in the Frumpy Zone (around the widest part of the hips/thighs), vs the tops on the right which end at the Style Zone- narrower points (waist to hip bone area) which also gives unequal proportions.
Balance the Volume

Only 1 voluminous garment at a time.  This is particularly important if you are petite as too much fabric will consume your frame very easily.
Don't forget the shoes!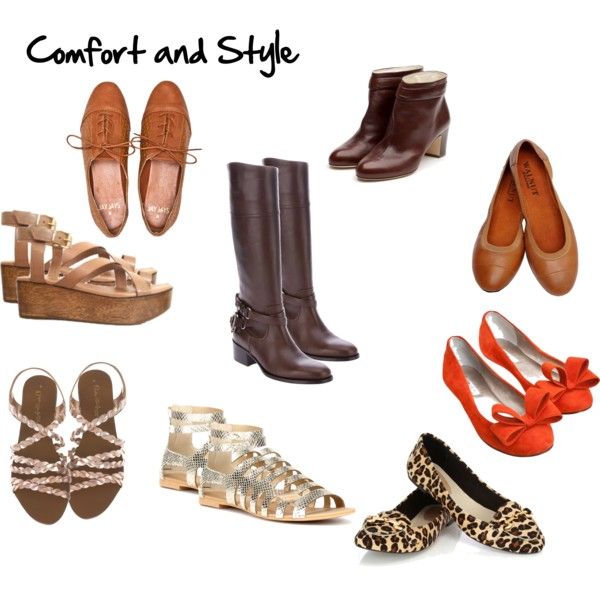 If you don't have a full length mirror, you may not realise that your shoes are letting you down and taking you to Frumpy Town!
For those of you who can't or don't want to wear heels, there are many flat shoe options to choose from that will still be stylish.
Look for a low vamp when wearing skirts and dresses.
Avoid anything clumpy and too chunky (remember the chunky rule from earlier?).
Also, you will need different shoes for different outfits.  Yes, you do need more than 3 pairs of shoes in your life to look stylish, the same pair just doesn't go with everything!