I'm frequently asked, "what are the essential items every woman should have in her wardrobe".
Sadly, I'm not about to give you a list as there isn't a one-size-fits-all list, just like there is no such thing as one-size-fits-all garments.
What I will tell you is what to consider when you think about putting together your personal essential wardrobe items.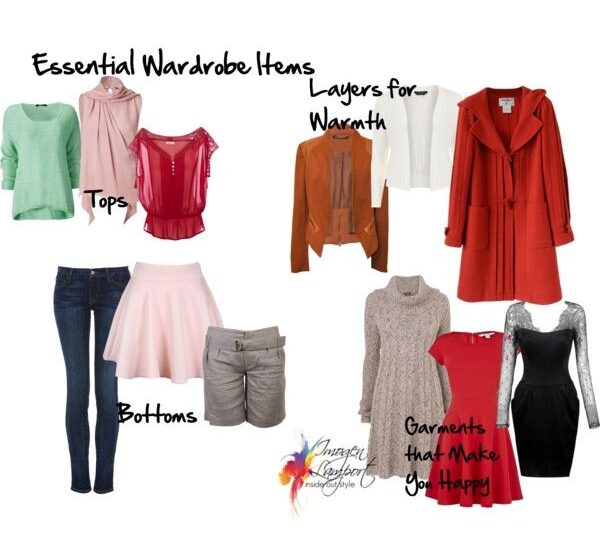 3 Questions to Ask Before You Add an item to Your Wardrobe
1. What's your lifestyle
How do you spend your time?  What are your dress requirements?  Do you work in an office that has a corporate dress code?  Do you work somewhere that is casual?  Do you look after young children?  Are you retired?  Your life and what you spend your time doing is what is important in considering what you need in your wardrobe.   It's not the same life as anyone else, so, therefore, you don't need exactly the same clothes as anyone else.
Sit down with a pen and paper and write out what your average week looks like.  Then think about the sometimes occasions (and how often they happen).  From your work to hobbies, exercise to cleaning the bathroom.  What is it that you do and what kinds of clothes do you need to assist you in these activities?  This will give you some guidelines as to the types of clothes you may need in a practical sense.
2. What's your personality?
You need to answer these questions – who are you? How do you want to be perceived by others?  What do you love?  What do you hate?  What makes you feel comfortable or uncomfortable?
Some people love pants others love skirts.  Both cover our lower body.  Some people would never wear a skirt, some rarely wear trousers.  There is no right or wrong, it's all about what you like and what makes you feel good.
3. What's the weather?
Where are you?  What's the season? The weather?  Are you a cold or a hot person (as in feel the cold, or feel the heat)?  These kinds of issues will also dictate some of your clothing requirements.
The reality is that you need something to wear, but what you choose to wear is up to you and all those bits and pieces that you've been discovering about your life and style.    One person's jeans are someone else's dress, both are practical and serve their function.  But which you choose will come down to what makes you feel good.
So my essentials are:
Tops
Bottoms
Layers – jackets, cardigans, coats
Dresses if you enjoy wearing them
It's all about the garments that make you happy.  If you love dresses but hate jeans, fill your wardrobe with dresses and own no jeans.
Think wardrobe, not outfits or individual garments.  Ideally, when you put together your wardrobe you will think about it as a cohesive whole, rather than lots of individual outfits.  Create a plan – there is no point in having a pair of black pants, if you're just not a trouser person.  Many people don't like wearing collared, button-down shirts, they find them too uncomfortable, so if they are not your style, just because they are on many 'essentials lists' doesn't mean that you should own any.
The items in your wardrobe should work together, mix and match for maximum value and versatility.  Consider creating wardrobe capsules for different elements of your life so that you can quickly and easily dress each day, no matter what the occasion.
If you want some personal advice about your wardrobe, book in for a Wardrobe Therapy session to get your wardrobe sorted!
More about Wardrobe: