The festive season has many evening events where some extra glitz and glam may be required. Rather than have a wardrobe full of evening wear, consider creating evening wear wardrobe capsules. This makes getting dress for events easy, whilst having plenty of options to change up the look of your outfit.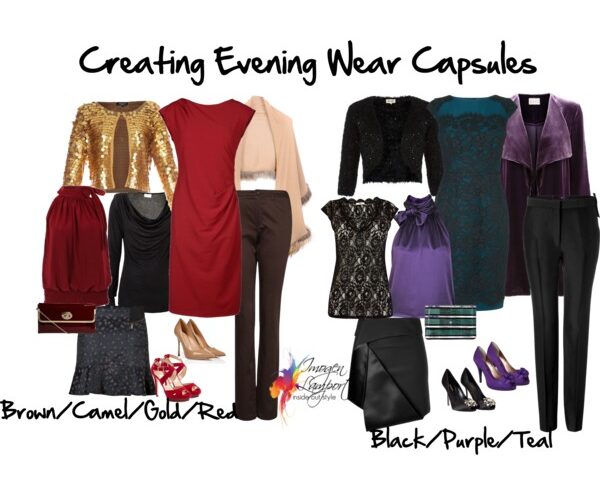 Here you'll see I've created two evening wear capsules, using a few colours that work together so you can easily mix and match. Each of these capsules will create 10 different looks. Add one extra top that goes with all the other elements and you will have an extra 4 outfit options to wear!
My formula for an evening wear capsule:
Two tops
Two bottolms (may be a skirt and a pant, or two pants, or two skirts – your preference)
Two jackets/shrugs/wraps/evening coat
Two pairs of shoes (I haven't even counted in the shoes in for the 10 outfits. If you take the shoes into consideration double the number of outfits options from 10 to 20).
One Clutch
If you want some personal advice about your wardrobe, book in for a Wardrobe Edit Sesion (or Wardrobe Therapy session for men) session to get your wardrobe sorted!
Here are some more great articles to help you get your Evening Wear Wardrobe sorted: